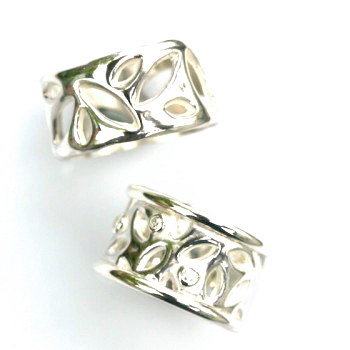 Bred vielsesring med blade
Bred vielsesring med organiske og grafiske bladmønster i sølv. For at skabe en flydende, blød og organisk effekt skæres ringene ud i voks førend de støbes i sølv. Kvindens ring kan prydes af fine diamanter hvis det ønskes.
Vielsesringe skal være behagelige at have på.
Vielsesringenes bløde former gør at de er behagelige at have på, på trods af den markante bredde. De bladformede huller tillader huden under ringen at ånde, hvilket gør disse sølv vielsesringe til et både praktisk og smukt smykke.
Skal vi hjælpe jer med at designe et sæt ringe, der både er praktiske og smukke på samme tid – Så er I meget velkommen til at kontakte os.